The Brain's Stop Signs
Published

19 Aug 2016

Reviewed

19 Aug 2016

Author

Rahul Patel

Source

BrainFacts/SfN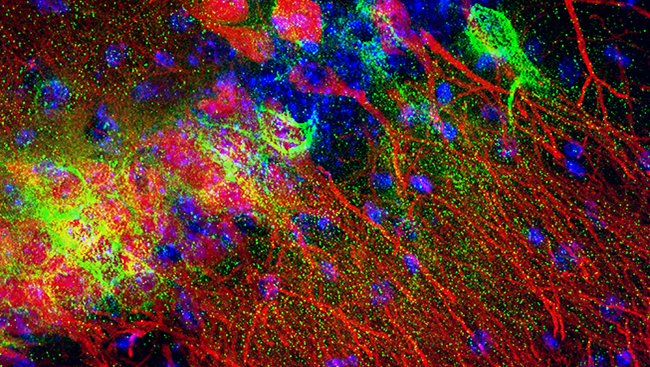 Carstens, et. al. The Journal of Neuroscience, 2016.
The brain relies on a balance of "stop" and "go" signals to function properly. A "stop" signal flashes when one neuron inactivates, or inhibits, another neuron. Scientists have found web-like structures of interlinked proteins called perineuronal nets help squelch neuronal signaling.
This image from a mouse hippocampus, the portion of the brain responsible for learning and memory, shows perineuronal nets (green) surrounding neurons (red). The developing brain has a tremendous capacity to alter the strength of connections between neurons, a phenomenon called synaptic plasticity, and scientists think perineuronal nets help rein in this plasticity. Some studies have found that people with neurodevelopmental disorders like Rett syndrome and schizophrenia have altered perineuronal nets, and scientists are working to uncover how these alterations may affect brain function.