Granule Cells
Published

30 Oct 2020

Author

Calli McMurray

Source

BrainFacts/SfN
Granule cells are the smallest and most numerous type of neurons in the brain. They are involved in functions ranging from processing visual and motor information to learning and memory.
Brain Bytes showcase essential facts about neuroscience.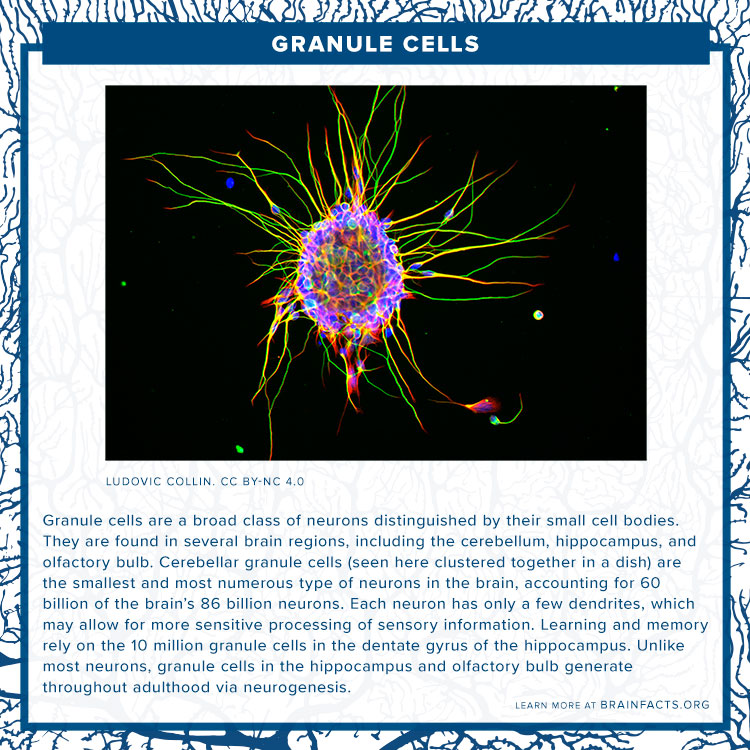 Design by A.Tong
Design by Adrienne Tong.
Image "Neurons in culture" by Ludovic Collin. CC BY-NC 4.0.
Jonas, P., & Lisman, J. (2014). Structure, function, and plasticity of hippocampal dentate gyrus microcircuits. Frontiers in Neural Circuits, 8. https://doi.org/10.3389/fncir.2014.00107
Llinás, R. R., Walton, K. D., & Lang, E. J. (2004). Cerebellum. In G. M. Shepherd (Ed.), The Synaptic Organization of the Brain (5th ed.). Oxford University Press. https://oxford.universitypressscholarship.com/view/10.1093/acprof:oso/9780195159561.001.1/acprof-9780195159561-chapter-7
Wagner, M. J., Kim, T. H., Savall, J., Schnitzer, M. J., & Luo, L. (2017). Cerebellar granule cells encode the expectation of reward. Nature, 544(7648), 96–100. https://doi.org/10.1038/nature21726