The Resilient Brain
Published

5 Feb 2016

Reviewed

5 Feb 2016

Author

Alexis Wnuk

Source

BrainFacts/SfN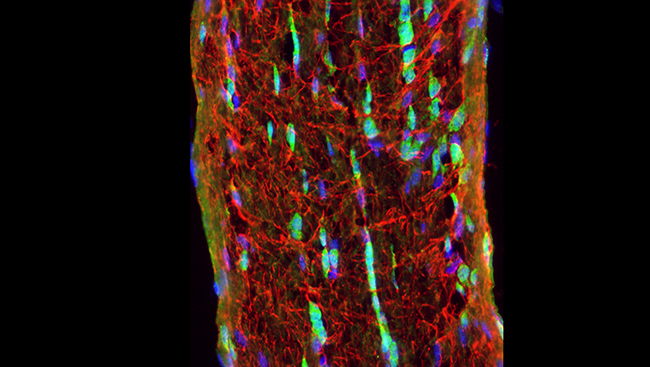 Hamner, et al. The Journal of Neuroscience, 2015.
Blocking or reducing blood flow to the brain can permanently damage brain cells. This blockage— called cerebral ischemia —accounts for almost 90 percent of all strokes. At the same time, brief episodes of ischemia can also make the brain more resilient to a future attack.
Scientists investigated ischemia in the optic nerve, the bundle of fibers that sends information from the eyes to the brain. The image above shows the optic nerve in a mouse with neuron cell bodies (blue) and support cells called glia (red and green). Understanding how this phenomenon occurs in mice could one day lead to new therapies for stroke in people.