Zebra Fish
Published

22 Jul 2020

Author

Calli McMurray

Source

BrainFacts/SfN
When you think about the animals that most resemble humans, fish probably don't come to mind. But scientists have learned a lot about human brain development, disease, and social behavior by studying the tiny zebrafish.
Brain Bytes showcase essential facts about neuroscience.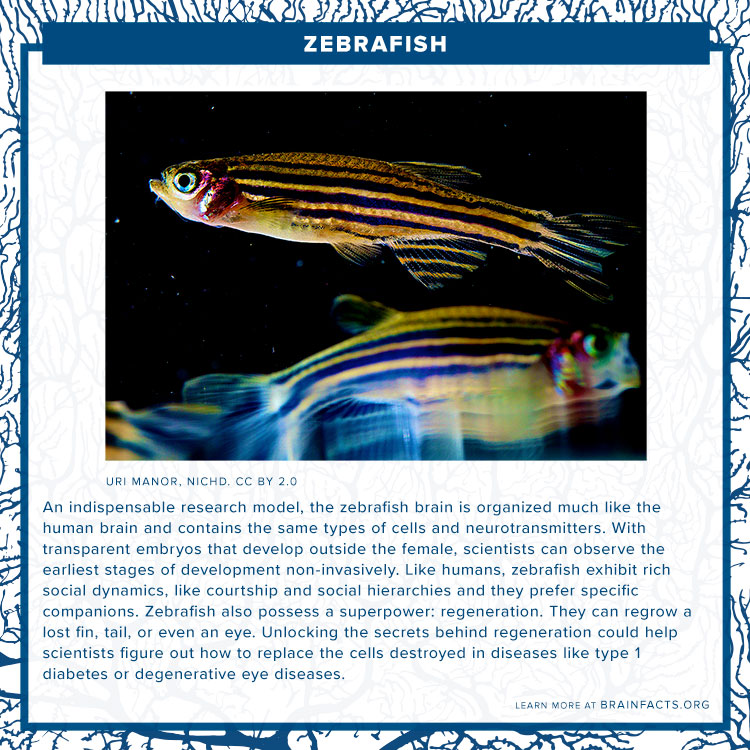 Design by A. Tong
Design by Adrienne Tong.
Image by Uri Manor, NICHD. CC BY 2.0
d'Amora, M., & Giordani, S. (2018). The Utility of Zebrafish as a Model for Screening Developmental Neurotoxicity. Frontiers in Neuroscience, 12. doi: 10.3389/fnins.2018.00976
Oliveira, R. F. (2013). Mind the fish: Zebrafish as a model in cognitive social neuroscience. Frontiers in Neural Circuits, 7. doi: 10.3389/fncir.2013.00131
Smith, P. (2018, May). Zebrafish Help Unlock Clues to Human Disease. Retrieved July 7, 2020, from Johns Hopkins Medicine website: https://www.hopkinsmedicine.org/research/advancements-in-research/fundamentals/in-depth/zebrafish-help-unlock-clues-to-human-disease
Stewart, A. M., Braubach, O., Spitsbergen, J., Gerlai, R., & Kalueff, A. V. (2014). Zebrafish models for translational neuroscience research: From tank to bedside. Trends in Neurosciences, 37(5), 264–278. doi: 10.1016/j.tins.2014.02.011