People Behind the Science: Deanna Barch
Published

2 Jun 2016

Reviewed

2 Jun 2016

Source

People Behind the Science
The researcher discusses potential risk factors for depression and schizophrenia.
Dr. Deanna Barch is the Gregory B. Couch Professor of Psychology, Psychiatry and Radiology at Washington University in Saint Louis. Dr. Barch is the Editor of Cognitive, Affective and Behavioral Neuroscience, and is on the Editorial Boards of Schizophrenia Bulletin, Current Directions in Psychological Science, Journal of Abnormal Psychology, and Clinical Psychological Science. She received her Masters and PhD in Clinical Psychology from the University of Illinois in Champaign-Urbana. Deanna then went on to do an NIMH sponsored postdoctoral fellowship at Western Psychiatric Institute and Clinic at the University of Pittsburgh Medical School. Deanna is with us today to tell us all about her journey through life and science.
Dr. Barch is President of the Society for Research in Psychopathology, was on the DSM-V Psychosis Committee, is on the Steering committee for the NIMH Research Domain Criteria initiative, and is a member of the NIMH Scientific Council. Dr. Barch is the recipient of several awards, including the American Psychological Association's Distinguished Scientific Award for Early Career Contribution to Psychology in the area of Psychopathology, and the Joseph Zubin Memorial Fund Award. She is a Fellow of the Association for Psychological Science and is currently on the NIMH Scientific Council. Deanna's current research is focused on understanding the interplay among cognition, emotion, and brain function to better understand the deficits in behavior and cognition found in illnesses such as schizophrenia and depression. In particular, Dr. Barch is interested in determining the cognitive, emotional and neural bases of risk for the development of schizophrenia and depression, potentially as a means of developing better preventative approaches. She uses functional MRI, structural MRI, and cognitive neuroscience methods to examine neural basis of disturbances in cognitive control and emotional processing in individuals with schizophrenia and those at risk for the development of schizophrenia, as well as in individuals with mood disorders. Dr. Barch's research has been funded by the NIMH, NARSAD, NSF, the Dana Foundation and the McDonnell Center for Systems Neuroscience.
CONTENT PROVIDED BY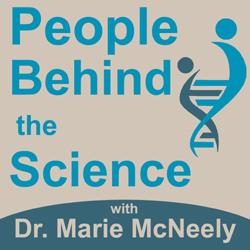 People Behind the Science