People Behind the Science: Aina Puce
Published

11 May 2016

Reviewed

11 May 2016

Source

People Behind the Science
The researcher discusses the science of body language and the unspoken word.
Dr. Aina Puce is the Eleanor Cox Riggs Professor of the Department of Psychological and Brain Sciences at Indiana University in Bloomington. She received her Masters of Applied Science in Physics from Swinburne Institute of Technology in Melbourne, Australia and her PhD in Medicine from the University of Melbourne. She then went on to do a postdoctoral fellowship in Neurosurgery at Yale University and has held faculty positions at Swinburne University of Technology, West Virginia University, and currently Indiana University. Aina is with us today to tell us about her journey through life and science.
Aina Puce was initially trained as a biophysicist, and then as a cognitive neuroscientist. During her postdoctoral training she focused on neuroimaging the brain basis of face perception. Aina's current research program is devoted to understanding the neural basis of social cognition – the brain's ability to interpret the actions, intentions and emotions of others. A main focus of her research is non-verbal communication, particularly from cues sent by the face, as direction of gaze, and emotional expressions. Experiments use combinations of different techniques including behavior, functional MRI, electrical activity of brain, and eye tracking in healthy individuals. The current work has implications for disorders of social cognition, which can occur in autism spectrum disorders and also schizophrenia.
CONTENT PROVIDED BY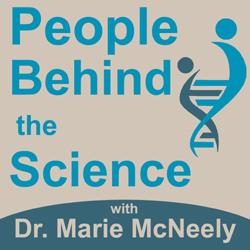 People Behind the Science