Look Inside the Dentate Gyrus
Published

8 Jul 2016

Reviewed

8 Jul 2016

Author

Rahul Patel

Source

BrainFacts/SfN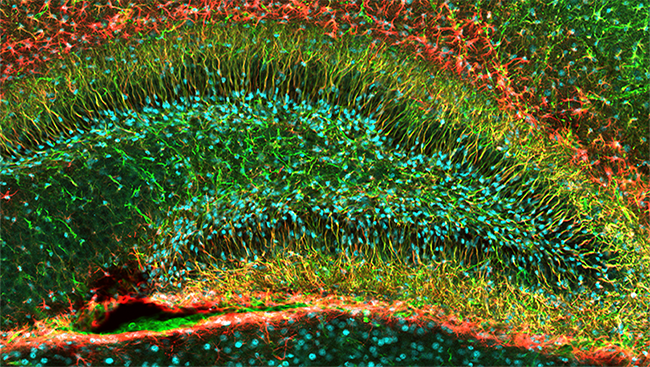 Noguchi, et al. The Journal of Neuroscience, 2016.
We once thought people were born with all the brain cells they would ever have. Then scientists discovered a handful of different brain structures that constantly make new brain cells, or neurons, well into adulthood — a process called neurogenesis.
The dentate gyrus, a portion of the hippocampus responsible for memories of events, is one of the few areas of the brain where neurogenesis takes place. This image of a mouse dentate gyrus shows newborn cells (blue) and the support cells called glia (red) that will help them migrate to their final destinations. Some of these new cells will mature to become different types of neurons in the dentate gyrus, where they will play important roles in learning and memory.