Shoo Fly, Don't Bother Me
Published

6 Oct 2014

Reviewed

6 Oct 2014

Author

Michael W. Richardson

Source

BrainFacts/SfN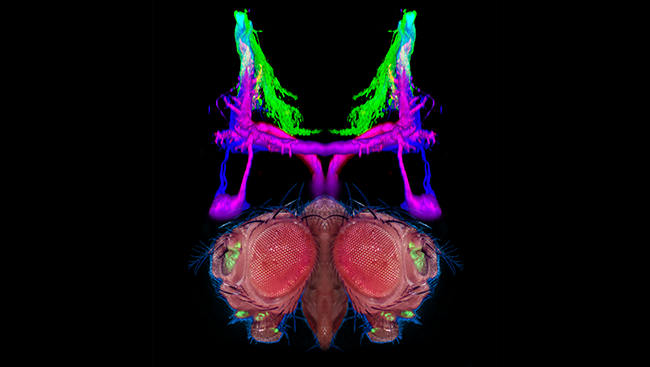 Pezier, et al. Journal of Neuroscience, 2014.
Ever try to sneak up on an annoying fly, only to have it dart away at the first movement of your swatter? Fruit flies owe their amazing escape abilities in part to wind-sensing nerve cells in their antennae. These antennae cells are labelled in green on the two mirror-image fly heads in silhouette at the bottom of the image.
A number of these antenna cells (in cyan) send their signals to other nerve cells called the giant fibers (in purple). These giant fibers trigger an escape reaction in the thorax, so the fly can quickly dodge danger. This vital cell connection can be seen in magnified detail above the flies.
Scientists are currently studying the connections between antennae and giant fiber cells for clues about a protein called Engrailed that is present there. Several studies have shown that defects in the human Engrailed genes may play a role in Parkinson's disease and autism. Researchers hope that, by studying this protein in fruit flies, they can better understand how it functions and malfunctions in the human brain.