Traffic Control
Published

26 Sep 2016

Reviewed

26 Sep 2016

Author

Alexis Wnuk

Source

BrainFacts/SfN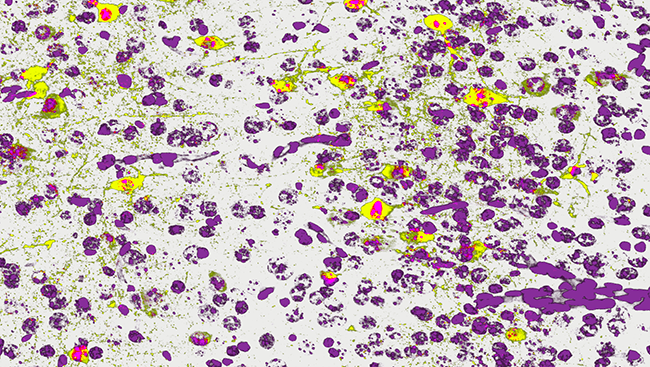 Goodliffe, et. al. The Journal of Neuroscience, 2016.
Imagine trying to drive a car without taking your foot off the brake pedal — you wouldn't get very far. Just as driving to your destination requires both acceleration and braking, your brain also depends on a careful balance of "stop" and "go" signals. A special group of neurons provides the stop signals, releasing specific neurotransmitters that block, or inhibit, other neurons from sending messages.
Studies of people with Down syndrome indicate they have too much inhibitory signaling in their brains, which disrupts learning and memory. The image above shows inhibitory neurons (yellow) and other neurons (purple) in the cerebral cortex of a mouse with a condition similar to Down syndrome. Studying mouse models like these can provide scientists with clues about the neurobiology behind the cognitive deficits in Down syndrome and other developmental disorders.