Girls With ADHD May Not Get Diagnosed Until They're Older
Published

4 Apr 2019

Author

Agata Boxe

Source

BrainFacts/SfN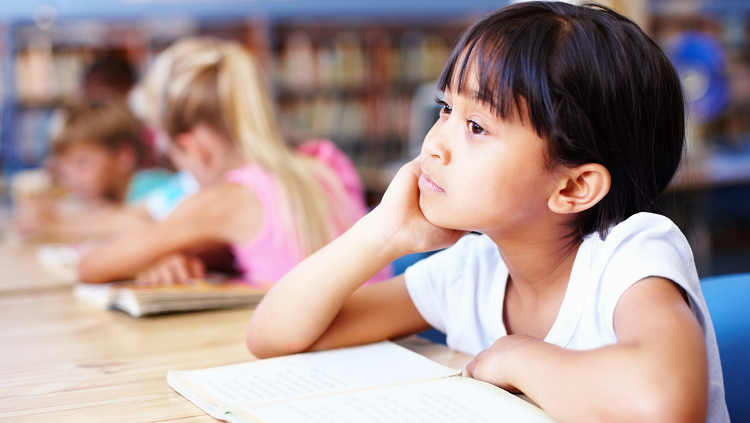 istock.com/Squaredpixels
Brenda Nicholson was a quiet kid who did well in school. But the self-professed daydreamer struggled with attention and focus, having trouble deciding what she wanted to do in life. She frequently changed jobs and majors. She got bored easily. Despite garnering an impressive collection of credits, she never attained a college degree. It wasn't until she was 42 that Nicholson discovered the underlying cause of her problems: ADHD.
Like Nicholson, many women with ADHD elude diagnosis until later in life. Research published in the Journal of Clinical Psychology in 2005 documented a ratio between girls and boys with ADHD equaled 1:3, whereas between women and men it was between 1:2 and 1:1.
ADHD is often perceived as a "male" disorder that manifests in hyperactivity. But girls with ADHD typically aren't hyperactive; instead, they tend to be inattentive and forgetful.
"Unfortunately, most clinicians continue to see this disorder through the lens of how the elementary-school aged boy presented, and often miss these girls with ADHD," says Patricia Quinn, a developmental pediatrician in Washington, DC.
That's not to say that all girls with the condition fall into the quiet daydreamer category. Zoë Kessler, for example, was a rambunctious, highly emotional child. "My mom would often say, 'Why can't you get on an even keel?' when referring to my rapidly cycling emotional highs and lows," Kessler says.
Kessler also felt deeply hurt when others criticized her. She remembers being told she was too sensitive, especially by her mom. Always the class clown, she thrived in her school environment that rewarded her creativity and boundless energy. But at home, she felt misunderstood. "I had the overwhelming sense that I was bad on a really deep level," says Kessler, now the 60-year-old author of ADHD According to Zoë. "It didn't matter what I said or what I did, it was always wrong."
Regardless of its presentation, ADHD can affect women's lives in dramatic ways. "We see in a lot of girls and women that they have a high degree of psychological fallout as a result of having the disorder," Quinn says. Young girls with the condition are often plagued by anxiety and school phobias, she notes. "They are embarrassed and humiliated by their ADHD," Quinn says. Problems frequently follow girls into adulthood. Women with ADHD are more than three times as likely to have ever had anxiety and suicidal thoughts — and more than twice as likely to have ever had depression — compared with women without the disorder, as described in a 2016 study published in the journal Child: Care, Health and Development.
While male and female manifestations of ADHD differ, the neurobiology behind that difference remains unclear. A small study of 119 adult people with ADHD and 107 adults without the condition published in 2014 in the journal European Neuropsychopharmacology looked at the volume of the caudate — a structure in the brain involved in motor processes as well as learning processes — in men and women. Men with ADHD had smaller right caudate volumes than men without the disorder— a finding that did not seem to apply to the women in the study. A much larger study, published in the journal The Lancet in 2017, failed to confirm this difference between the two genders.
While ADHD may manifest differently in girls' and boys' behaviors, there don't seem to be clear-cut differences in brain anatomy or genetics that could explain it, says Barbara Franke, a professor of molecular psychiatry at Radboud University Nijmegen in the Netherlands, the senior lead for the ENIGMA ADHD working group and the ADHD working group of the Psychiatric Genomics Consortium.
The good news for everyone is that ADHD is "a very hopeful diagnosis," Quinn says. With the right treatment plan — which may involve medication, behavioral therapy, and coaching — a patient's quality of life can improve greatly.
Getting diagnosed is key to reaching one's potential, Kessler says. She notes that she had never felt truly at ease until she started taking medication following her diagnosis. "It was like I had had my hand stuck in a wall socket my whole life since I was born, and there was this current going through my body," she says. "And I just pulled my hand out of the socket. And I felt grounded."
Fuller‐Thomson, E., Lewis, D. A., & Agbeyaka, S. K. (2016). Attention‐deficit/hyperactivity disorder casts a long shadow: Findings from a population‐based study of adult women with self‐reported ADHD. Child: Care, Health and Development, 42(6) 918–927. doi:
10.1111/cch.12380
Hoogman, M., Bralten, J., Hibar, D. P., Mennes, M., Zwiers, M. P., Schweren, L., … Franke, B. (2017). Subcortical brain volume differences in participants with attention deficit hyperactivity disorder in children and adults: a cross-sectional mega-analysis. The lancet. Psychiatry, 4(4), 310–319. doi:
10.1016/S2215-0366(17)30049-4
Onnink, A. M. H., Zwiers, M. P., Hoogman, M., Mostert, J. C., Kan, C. C., Buitelaar, J., & Franke, B. (2014). Brain alterations in adult ADHD: Effects of gender, treatment and comorbid depression. European Neuropsychopharmacology, 24(3), 397–409. doi:
10.1016/j.euroneuro.2013.11.011
Resnick, R. J. (2005). Attention deficit hyperactivity disorder in teens and adults: They don't all outgrow it. Journal of Clinical Psychology, 61(5), 529–533. doi:
10.1002/jclp.20117