Panic Disorder
Published

22 May 2023

Author

Alison Davis

Source

BrainFacts/SfN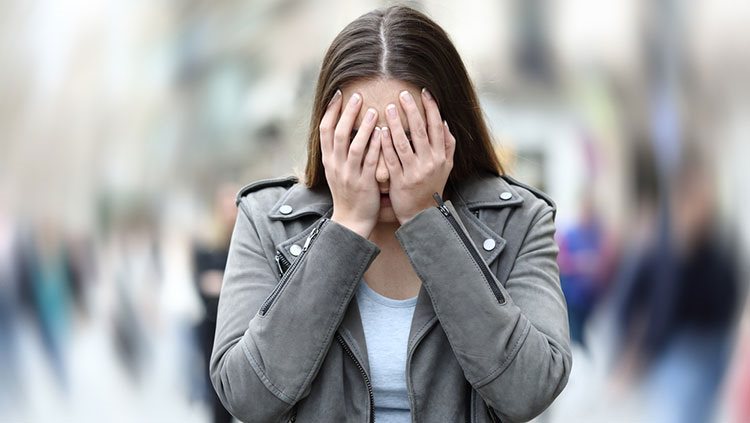 Shutterstock.com via Antonio Guillem
Up to 11% of people in the United States experience a panic attack every year. But not everyone who has a panic attack has panic disorder. For some, panic attacks occur multiple times without warning or a specific trigger. What's more, they are not brought on by other physical or mental health conditions.
Panic disorder is a type of anxiety disorder characterized by sudden, unexpected bouts of intense, irrational fear and frightening physical symptoms such as difficulty breathing, a racing heart, sweating, and dizziness. It affects 2.7% of U.S. adults and about the same proportion of teens, making it more common than obsessive-compulsive disorder (OCD).
Panic attacks typically last several minutes or sometimes longer. Because the attacks occur unpredictably, people who experience them often live in fear of having an attack in public or while driving — further increasing their anxiety. About half of people with panic disorder also have mood disorders such as depression or bipolar disorder, as well as other psychiatric illnesses like OCD, phobias, and schizophrenia. Panic disorder is usually treated with psychotherapy, medications, or a combination of these. Selective serotonin reuptake inhibitors are the primary drugs used for panic disorder, although benzodiazepines can be used in emergencies.
---
Adapted from the 8th edition of Brain Facts by Alison Davis.

American Psychiatric Association. (2023). Diagnostic and Statistical Manual of Mental Disorders (5th ed., text rev.). https://doi.org/10.1176/appi.books.9780890425787

Bandelow, B., & Michaelis, S. (2015). Epidemiology of anxiety disorders in the 21st century. Dialogues in Cclinical Nneuroscience, 17(3), 327–335. https://doi.org/10.31887/DCNS.2015.17.3/bbandelow

Burguière, E., Monteiro, P., Mallet, L., Feng, G., & Graybiel, A. M. (2015). Striatal circuits, habits, and implications for obsessive-compulsive disorder. Current Oopinion in Nneurobiology, 30, 59–65. https://doi.org/10.1016/j.conb.2014.08.008
Cleveland Clinic. (2023). Panic Attacks & Panic Disorder. https://my.clevelandclinic.org/health/diseases/4451-panic-attack-panic-disorder

Craddock, N., & Sklar, P. (2013). Genetics of bipolar disorder. Lancet (London, England), 381(9878), 1654–1662. https://doi.org/10.1016/S0140-6736(13)60855-7

Foland-Ross, L. C., Hamilton, P., Sacchet, M. D., Furman, D. J., Sherdell, L., & Gotlib, I. H. (2014). Activation of the medial prefrontal and posterior cingulate cortex during encoding of negative material predicts symptom worsening in major depression. Neuroreport, 25(5), 324–329. https://doi.org/10.1097/WNR.0000000000000095

Geddes, J. R., & Miklowitz, D. J. (2013). Treatment of bipolar disorder. Lancet (London, England), 381(9878), 1672–1682. https://doi.org/10.1016/S0140-6736(13)60857-0

Kavanagh, D. H., Tansey, K. E., O'Donovan, M. C., & Owen, M. J. (2015). Schizophrenia genetics: emerging themes for a complex disorder. Molecular Ppsychiatry, 20(1), 72–76. https://doi.org/10.1038/mp.2014.148

Memon, M. A. (2018). Panic Disorder. Medscape. http://emedicine.medscape.com/article/287913-overview

National Alliance on Mental Illness. (2017). Depression. https://www.nami.org/Learn-More/Mental-Health-Conditions/Depression

National Institute of Mental Health. (2017). Anxiety Disorders. NIH. https://www.nimh.nih.gov/health/topics/anxiety-disorders/index.shtml

National Institute of Mental Health. (2017). Bipolar Disorder. NIH. https://www.nimh.nih.gov/health/statistics/prevalence/bipolar-disorder-among-adults.shtml

National Institute of Mental Health. (2017). Depression. NIH. https://www.nimh.nih.gov/health/topics/depression/index.shtml

National Institute of Mental Health. (2017). Obsessive-Compulsive Disorder (OCD). NIH. https://www.nimh.nih.gov/health/topics/obsessive-compulsive-disorder-ocd/index.shtml

National Institute of Mental Health. (2017). Panic Disorder. NIH. https://www.nimh.nih.gov/health/statistics/prevalence/panic-disorder-among-adults.shtml

National Institute of Mental Health. (2017). Post-Traumatic Stress Disorder (PTSD). NIH. https://www.nimh.nih.gov/health/statistics/prevalence/post-traumatic-stress-disorder-among-adults.shtml

Pittenger, C., & Bloch, M. H. (2014). Pharmacological treatment of obsessive-compulsive disorder. The Psychiatric Cclinics of North America, 37(3), 375–391. https://doi.org/10.1016/j.psc.2014.05.006

Ragen, B. J., Seidel, J., Chollak, C., Pietrzak, R. H., & Neumeister, A. (2015). Investigational drugs under development for the treatment of PTSD. Expert Opinion on Investigational Drugs, 24(5), 659–672. https://doi.org/10.1517/13543784.2015.1020109

Strube, W., Bunse, T., Nitsche, M. A., Wobrock, T., Aborowa, R., Misewitsch, K., Herrmann, M., Falkai, P., & Hasan, A. (2015). Smoking restores impaired LTD-like plasticity in schizophrenia: a transcranial direct current stimulation study. Neuropsychopharmacology, 40(4), 822–830. https://doi.org/10.1038/npp.2014.275

Treadway, M. T., Waskom, M. L., Dillon, D. G., Holmes, A. J., Park, M. T. M., Chakravarty, M. M., Dutra, S. J., Polli, F. E., Iosifescu, D. V., Fava, M., Gabrieli, J. D. E., & Pizzagalli, D. A. (2015). Illness progression, recent stress, and morphometry of hippocampal subfields and medial prefrontal cortex in major depression. Biological Psychiatry, 77(3), 285–294. https://doi.org/10.1016/j.biopsych.2014.06.018

World Health Organization. (2022). Mental disorders. https://www.who.int/news-room/fact-sheets/detail/mental-disorders