Participating in a Brain Bee: What You Need to Know
Published

1 Oct 2018

Reviewed

1 Oct 2018

Author

Lynnie Fein-Schaffer

Source

BrainFacts/SfN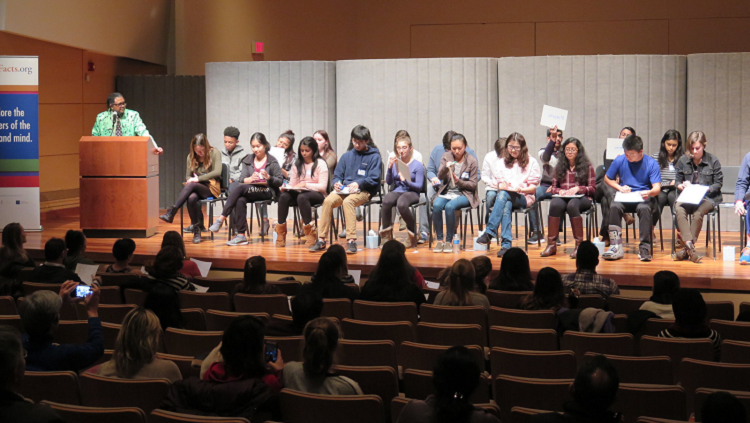 The Brain Bee is a neuroscience competition for teenagers that aims to motivate students to learn about the brain and inspire them to pursue careers in science. Discover the advice and wisdom on finding and preparing for a Brain Bee from interviews with previous D.C. Brain Bee winners below.
What is your name and where do you attend school?
Sophia from School Without Walls High School (now attending MIT)
Jerry from Richard Montgomery High School
Noor from Sidwell Friends School
Emily from Richard Montgomery High School
How did you find out about the D.C. Brain Bee?
Sophia: I found out about the Brain Bee through my own online research.
Jerry: My brother told me of the opportunity.
Noor: My biology teacher told me about the Brain Bee during my freshman year.
Emily: I heard about the competition through my school's Science Club.
How did you prepare for the Brain Bee?
Sophia: I prepared by creating a huge quizlet [a free app for creating flashcards].
Jerry: I prepared for the Brain Bee by creating flashcards of the entire Brain Facts book and studying them every day. I also watched videos on YouTube of unfamiliar [neuroscience] concepts.
Emily: In addition to reading the Brain Facts Book, I also enjoyed learning about neuroscience in general and read up on all the topics I found interesting.
What should students know before going to a Brain Bee competition?
Sophia: I would recommend that students know that the Brain Bee can be a lot of fun if you try to learn the information in a unified way rather than just memorizing facts.
Jerry: Know the information in the book of course, but also know the format of the competition (sitting on stage with a marker and whiteboard, multiple rounds, 3 strikes round).
Noor: Students should know that performing well in the Brain Bee requires practice and lots of studying.
Emily: Don't be stressed out about the competition! The entire process is a lot of fun.
What classes were relevant to your preparation for the Brain Bee?
Sophia: I believe the most relevant coursework I had completed by the time of the Brain Bee was just introductory high school biology, but I'd done a lot of independent reading in neuroscience.
Jerry: Honors biology and honors chemistry were the only science classes I had completed.
Noor: I had taken a biology course during my freshman year, and I was taking a chemistry course the year I won.
What advice would you give to students currently studying for a Brain Bee?
Jerry: Study a little bit every day, don't disregard any parts of the book (there was a question on ethics that everybody got wrong), and be eager to learn new things.
Noor: I would advise students to not try to cram the night before. Having a solid understanding of the topics discussed in the Brain Facts book is helpful not only during the competition, but as a future scientist.
The Brain Bee, like a spelling bee, is a progressive competition with winners at the local level qualifying for the National Brain Bee. There is even an international competition for national winners. If you are interested in participating in this year's local D.C. Brain Bee, hosted by the Society for Neuroscience, work with a science teacher at your school to register. For more information, you can contact baw@sfn.org.