People Behind the Science: Eric Leuthardt
Published

19 Jul 2016

Reviewed

19 Jul 2016

Source

People Behind the Science
Science fiction meets reality in the realm of brain-computer interfaces.
Dr. Eric Leuthardt is a neurosurgeon at Barnes-Jewish Hospital and the Siteman Cancer Center in St. Louis and also the Director for the Center for Innovation in Neuroscience and Technology at Washington University in St. Louis. In addition, he is a Senior Inventor with Intellectual Ventures and a Technical and Medical Consultant for Ascension Health Ventures. Eric received his Medical Degree from the University of Pennsylvania School of Medicine, and completed his Chief Residency and Residency at Barnes-Jewish Hospital and the Washington University School of Medicine. He also did a Fellowship in Spinal Surgery and Epilepsy in the Department of Neurosurgery at the University of Washington School of Medicine and Harborview Medical Center in Seattle. Eric is a surgeon, researcher, and innovator. He has received many honors and awards for his work including recently the Google Research Award for Neurosurgery in 2013 and was a winner in the XPrize Visioneering competition in 2013. He has also been presented with the Annual Award of the American Academy of Neurological Surgery in Berlin, one of the highest acknowledgments in his field and been listed among the MIT Technology Review's top 100 innovators. Eric is with us today to tell us about his journey through life and science.
Eric's research has focused on neuroprosthetics – devices linked to the brain that may restore function to patients with motor disabilities. His work in the field of neuroprosthetics and neurosurgical devices has yielded him numerous accolades as a scientist, a neurosurgeon, and an inventor. Dr. Leuthardt uses an integrated approach by employing multiple domains of expertise ranging from biomedical engineering, clinical neurosurgery, mathematical modeling, complex signal analysis, and computer programming. In addition to numerous peer-reviewed publications, Leuthardt has over 1000 patents on file with the U.S. Patent and Trademark Office for medical devices and brain computer interface technologies. He is also the founder of four startup companies.
CONTENT PROVIDED BY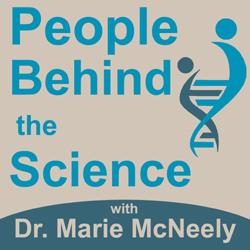 People Behind the Science