Patient S.M.
Published

9 Dec 2020

Author

Calli McMurray

Source

BrainFacts/SfN
Because of damage to her amygdala, Patient S.M. lives a life without fear. This may sound appealing, but fear helps us avoid danger.
Brain Bytes showcase essential facts about neuroscience.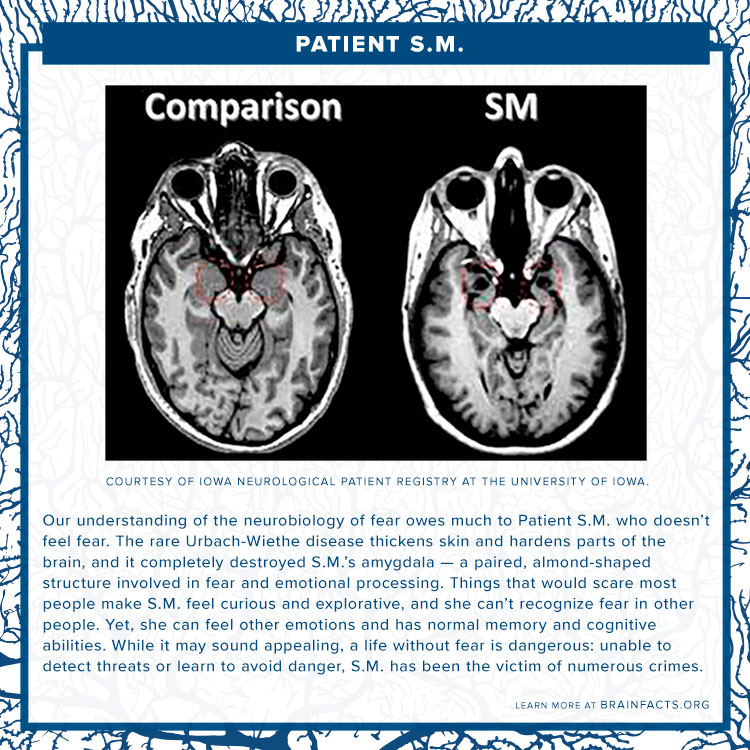 Design by A. Tong
Design by Adrienne Tong.
Image: Courtesy of Iowa Neurological Patient Registry at the University of Iowa.
Feinstein, J. S., Adolphs, R., Damasio, A., & Tranel, D. (2011). The human amygdala and the induction and experience of fear. Current biology : CB, 21(1), 34–38. https://doi.org/10.1016/j.cub.2010.11.042
Adolphs, R., Tranel, D., Damasio, H. et al. (1994). Impaired recognition of emotion in facial expressions following bilateral damage to the human amygdala. Nature, 372, 669–672. https://doi.org/10.1038/372669a0
Yong, E. (2019, May 17). Meet the woman without fear. Retrieved November 12, 2020, from https://www.discovermagazine.com/mind/meet-the-woman-without-fear
Parida, J. R., Misra, D. P., & Agarwal, V. (2015). Urbach-Wiethe syndrome. BMJ case reports, 2015, bcr2015212443. https://doi.org/10.1136/bcr-2015-212443