ICYMI: Teen Years Are Tough for Dogs — and Their Humans
Published

20 May 2020

Author

Alexis Wnuk

Source

BrainFacts/SfN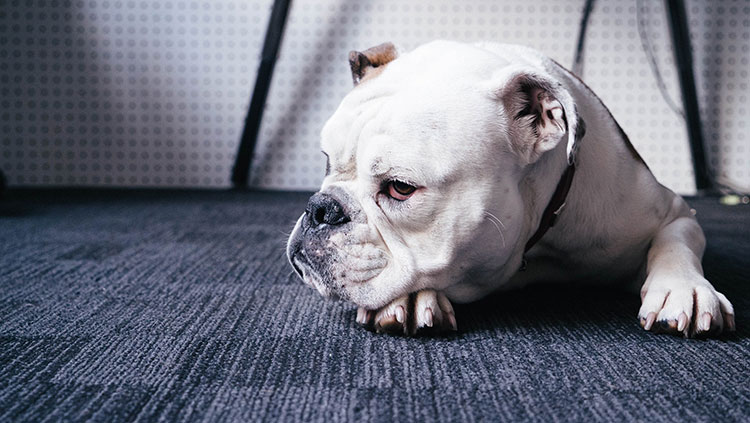 Photo by meredith hunter on Unsplash
These were the top neuroscience stories for the week of May 11, 2020.
Teen Years Are Tough for Dogs — and Their Humans
Teenagers test boundaries and challenge parents' authority all in service to growing into independent adults. Our four-legged companions may do the same: dogs are less responsive to their owners' commands during the adolescent phase of development, researchers reported on May 13 in Biology Letters. Observing 93 dogs being evaluated as potential guide dogs, the team tested the dogs' obedience during pre-adolescence at five months old and later during adolescence, when the dogs were eight months old. Adolescent dogs were less likely to sit on command — but only when the command came from their owner. Over the study period, the dogs' obedience to a stranger's commands improved.
Related: Roll Over, Sit, Lie Still in the MRI: How Brain Imaging Helps Us Understand Dogs
Read more: Dogs endure emotional difficulties in puberty like humans, says study (The Guardian)
Economic Downturn of Pandemic Could Increase Suicide Rate
The economic fallout of the COVID-19 pandemic may lead to a spike in suicide rates, researchers wrote in the journal World Psychiatry on May 11. Using a newly developed model to estimate suicide rates for different rates of unemployment, they found the worst-case scenario — an unemployment rate of 24% — predicted an additional 8,000 deaths by suicide in 2020, or an 8% increase.
Big picture: Two of the defining features of the COVID-19 pandemic — economic downturn and social isolation — are also strong risk factors for suicide, which has been steadily increasing in the U.S. over the last two decades.
Read more: Act Now to Get Ahead of a Mental Health Crisis, Specialists Advise U.S. (NPR)
Personalized Stem Cell Therapy for Parkinson's Disease
In a first-of-its-kind treatment for Parkinson's disease, doctors transplanted immature neurons derived from a patient's own skin cells into his brain. The results were published in The New England Journal of Medicine on May 14. After coaxing the patient's skin cells into becoming induced pluripotent stem cells, or iPSCs, the team prodded the cells to develop into precursor neurons. They hoped the precursor neurons would integrate into the brain and replace neurons destroyed by the disease. Over a two-year follow-up period, the patient's motor function and quality of life improved. However, the researchers say the results should be interpreted with caution because there was no placebo treatment or control group.
Big picture: Parkinson's disease destroys dopamine neurons in a region of the brain called the substantia nigra. The drug L-dopa can boost dopamine signaling in the brain and ease tremors and muscle rigidity, but it doesn't halt disease progress. Electrically stimulating regions of the brain — a procedure called deep brain stimulation, or DBS — can help patients who stop responding to medication.
Read more: A secret experiment revealed: In a medical first, doctors treat Parkinson's with a novel brain cell transplant (STAT)
---
If you or someone you know is struggling with self-harm or thoughts of suicide, call the National Suicide Prevention Lifeline at 1-800-273-8255. Or, speak with a counselor using the Lifeline Chat. The lifeline provides free and confidential support 24 hours a day, seven days a week.