Social Neuroscience
Published

8 May 2023

Author

Marissa Fessenden

Source

BrainFacts/SfN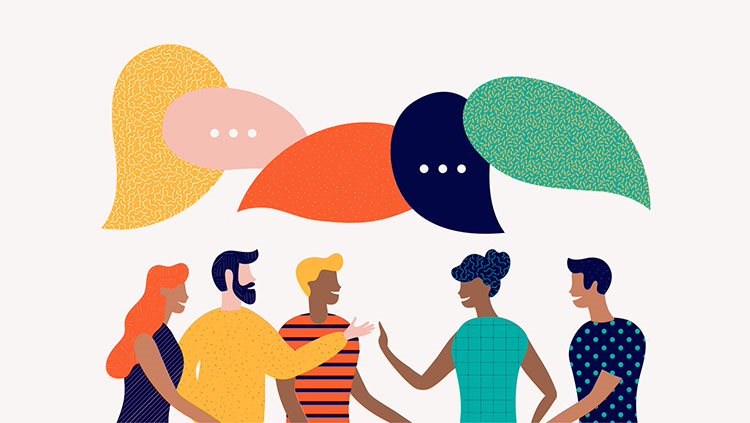 iStock.com via VictoriaBar
Like herds of animals, flocks of birds, or schools of fish, humans are social creatures. Our social human nature is reflected in our brain anatomy and function: Large parts of our brains are dedicated to processing information about other people.
Social neuroscience refers to the study of neural functions that underlie interpersonal behavior, such as reading social cues, understanding social rules, choosing socially appropriate responses, and understanding oneself and others. The latter process is known as "mentalizing" — making sense of your own thought processes and those of others. The medial prefrontal cortex (PFC), and some areas of the lateral PFC, are highly involved in these skills.
Mentalizing underlies some of our most complex and fascinating mental abilities. These include empathy and "theory of mind," which is understanding the mental states of others and the reasons for their actions. Until recently, research devoted little emphasis to the social and emotional abilities needed for these higher-order mental functions, but now such topics are being avidly studied.
An obvious way that we understand the mental states of others is by observing their actions. This requires the brain to see and recognize others' movements and facial expressions, and then draw inferences about the feelings and intentions that drive them. Scientists have learned how brain activity drives these processes by scanning people's brains with fMRI as subjects watch video clips of other people.
Several regions in the medial PFC help us make judgments about ourselves and others. In addition, a specific region at the border of temporal and parietal lobes, the temporoparietal junction (TPJ), appears to focus on the distinctions between ourselves and others. The TPJ is also activated when we watch others engage in actions that seem at odds with their intentions.
A popular, though controversial, theory of social cognition centered on the discovery of "mirror neurons." In the 1990s, scientists identified neurons in the motor cortex of rhesus macaques that fired when the monkeys performed a specific action. They were astonished to find these neurons also fired when the monkeys simply watched another person or monkey perform that same action. The findings prompted speculation that mirror neurons underlie our ability to understand another person's actions. Additional studies revealed humans also possessed mirror neurons and in even wider brain networks.
Mirror neurons then permeated popular media. Within a decade of their discovery, however, mirror neurons' role in social cognition was called into question — many scientists argued that there was little direct evidence supporting mirror neurons' purported roles in theory of mind, mentalizing, and empathy.
Researchers are continuing to investigate mirror neurons, as well as the complexities of the human brain that allow us to understand and empathize with others.
---
Adapted from the 8th edition of Brain Facts by Marissa Fessenden.
Anaki, D., Kaufman, Y., Freedman, M., & Moscovitch, M. (2007). Associative (prosop)agnosia without (apparent) perceptual deficits: a case-study.
Neuropsychologia
, 45(8), 1658–1671.
https://doi.org/10.1016/j.neuropsychologia.2007.01.003
Barense M. D., Warren. J. D., Bussey, T. J., Saksida, L. M. (2016) Oxford Textbook of Cognitive Neurology & Dementia, Chapter 4: The temporal lobes.
https://academic.oup.com/book/24555/chapter-abstract/187755187?redirectedFrom=fulltext
Best, J. R., & Miller, P. H. (2010). A developmental perspective on executive function.
Child development
, 81(6), 1641–1660.
https://doi.org/10.1111/j.1467-8624.2010.01499.x
Binder, J. R., Desai, R. H., Graves, W. W., & Conant, L. L. (2009). Where is the semantic system? A critical review and meta-analysis of 120 functional neuroimaging studies.
Cerebral cortex
(New York, N.Y.: 1991), 19(12)
, 2767–2796.
https://doi.org/10.1093/cercor/bhp055
Florence Bouhali, F., Thiebaut de Schotten, M., Pinel, P., Poupon, C., Mangin, J. F., Dehaen, S., & Cohen, L. (2014). Anatomical Connections of the Visual Word Form Area.
Journal of Neuroscience, 34(46
) 15402-15414.
https://doi.org/10.1523/JNEUROSCI.4918-13.2014
Buchsbaum, B. R., Hickok, G., Humphries, C. (2001). Role of left posterior superior temporal gyrus in phonological processing for speech perception and production.
Cognitive Sci
, 25, 663-678.
http://www.sciencedirect.com/science/article/pii/S0364021301000489
Campbell, M. E., & Cunnington, R. (2017). More than an imitation game: Top-down modulation of the human mirror system.
Neuroscience and Biobehavioral Reviews
, 75, 195–202.
https://doi.org/10.1016/j.neubiorev.2017.01.035
Centelles, L., Assaiante, C., Nazarian, B., Anton, J. L., & Schmitz, C. (2011). Recruitment of both the mirror and the mentalizing networks when observing social interactions depicted by point-lights: a neuroimaging study.
PloS One
, 6(1), e15749.
https://doi.org/10.1371/journal.pone.0015749
Charpentier, C. J., De Neve, J. E., Li, X., Roiser, J. P., & Sharot, T. (2016). Models of Affective Decision Making: How Do Feelings Predict Choice?
Psychological Science
, 27(6), 763–775.
https://doi.org/10.1177/0956797616634654
Dixon, M. L., & Christoff, K. (2014). The lateral prefrontal cortex and complex value-based learning and decision making.
Neuroscience and Biobehavioral Reviews
, 45, 9–18.
https://doi.org/10.1016/j.neubiorev.2014.04.011
Domanski C. W. (2013). Mysterious "Monsieur Leborgne": The mystery of the famous patient in the history of neuropsychology is explained. J
ournal of the History of the Neurosciences
, 22(1), 47–52.
https://doi.org/10.1080/0964704X.2012.667528
Domenech, P. & Koechlin, E. (2014). Executive control and decision-making in the prefrontal cortex.
Curr Opin Behav Sci
, 1, 101-106.
http://www.sciencedirect.com/science/article/pii/S2352154614000278
Doré, B. P., Zerubavel, N., Ochsner, K. N. (2015). Social cognitive neuroscience: A review of core systems. In Mikulincer, M., Shaver, P. R., Borgida, E., & Bargh, J. A. (Eds.), APA Handbook of Personality and Social Psychology, Vol. 1. Attitudes and social cognition (pp. 693–720). American Psychological Association.
https://doi.org/10.1037/14341-022
Frederick R. (2014). Testing for executive function in gibbons.
Proceedings of the National Academy of Sciences of the United States of America, 111
(13), 4738.
https://doi.org/10.1073/pnas.1401589111
Hickok G. (2009). The functional neuroanatomy of language.
Physics of Life Reviews, 6
(3), 121–143.
https://doi.org/10.1016/j.plrev.2009.06.001
Huth, A. G., de Heer, W. A., Griffiths, T. L., Theunissen, F. E., & Gallant, J. L. (2016). Natural speech reveals the semantic maps that tile human cerebral cortex.
Nature
, 532(7600), 453–458.
https://doi.org/10.1038/nature17637
Konopka, G., & Roberts, T. F. (2016). Insights into the Neural and Genetic Basis of Vocal Communication.
Cell
, 164(6), 1269–1276.
https://doi.org/10.1016/j.cell.2016.02.039
Mzuguchi N., Nakata, H., Kanosue, K. (2016) The right temporoparietal junction encodes efforts of others during action observation.
Sci Reports
, 6, 30274.
https://www.nature.com/articles/srep30274
Peelle J. E. (2012). The hemispheric lateralization of speech processing depends on what "speech" is: a hierarchical perspective.
Frontiers in Human Neuroscience
,
6,
309.
https://doi.org/10.3389/fnhum.2012.00309
Price C. J. (2012). A review and synthesis of the first 20 years of PET and fMRI studies of heard speech, spoken language and reading.
NeuroImage, 62
(2), 816–847.
https://doi.org/10.1016/j.neuroimage.2012.04.062
Soutschek, A., Sauter, M., & Schubert, T. (2015). The Importance of the Lateral Prefrontal Cortex for Strategic Decision Making in the Prisoner's Dilemma.
Cognitive, Affective & Behavioral Neuroscience, 15
(4), 854–860.
https://doi.org/10.3758/s13415-015-0372-5
Spunt, R. P., Satpute, A. B., & Lieberman, M. D. (2011). Identifying the what, why, and how of an observed action: an fMRI study of mentalizing and mechanizing during action observation.
Journal of Cognitive Neuroscience, 23
(1), 63–74.
https://doi.org/10.1162/jocn.2010.21446