ICYMI: Neuroscientists Reconstruct a Pink Floyd Classic Rock Using AI
Published

13 Sep 2023

Author

Christine Won

Source

BrainFacts/SfN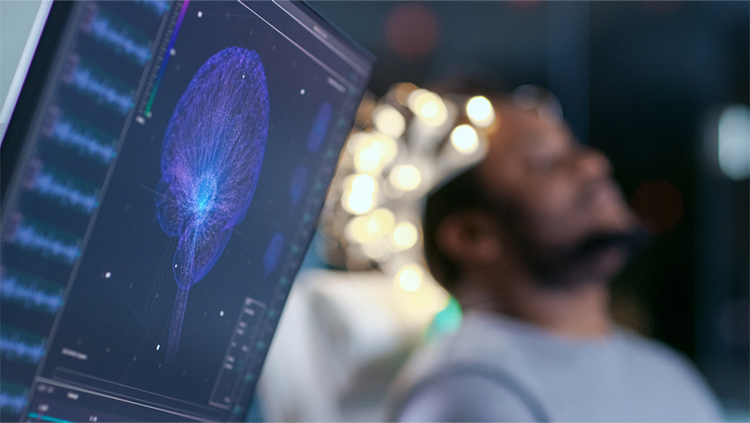 Shutterstock.com via
Gorodenkoff
Artificial intelligence (AI) reconstructed Pink Floyd's 1979 classic, "Another Brick in the Wall, Part 1," using the brain signals of 29 listeners.
The reconstruction is "muffled" but still recognizable, researchers wrote in their August 15 study in PLOS Biology. The study also revealed which parts of the brain activate in response to varying components of the song, which was chosen for its multidimensional features across pitch, rhythm, tone, chords, and more. The study identified a new subregion in the superior temporal gyrus — involved in auditory processing — that was keyed into musical rhythm.
The study participants already had a host of electrodes implanted in their brains — totaling 2,668 — to monitor and treat epileptic seizures, creating the rare opportunity for neuroscientists to analyze neural activity during music perception using AI and machine learning.
Big Picture: This marks another step in the development of brain-computer interfaces that seek to aid people who have lost their ability to speak communicate again. It also brings us closer to a reality where machines can eavesdrop on our thoughts.
Read More: Neuroscientists Re-create Pink Floyd Song from Listeners' Brain Activity. Scientific American
More Top Stories
Bellier, L., Llorens, A., Marciano, D., Gunduz, A., Schalk, G., Brunner, P., & Knight, R. T. (2023). Music can be reconstructed from human auditory cortex activity using nonlinear decoding models.
PLoS Biology
,
2
1(8), e3002176.
https://doi.org/10.1371/journal.pbio.3002176