Parts of the Nervous System
Published

1 Apr 2012

Reviewed

1 Apr 2012

Source

BrainFacts/SfN
The two halves of the nervous system work together in order for your body to properly communicate its sensations and needs.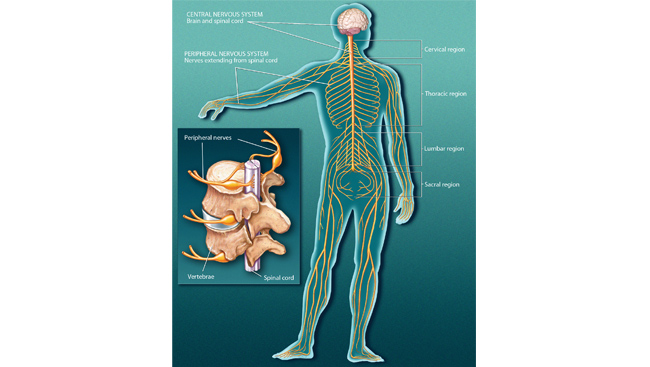 Illustration by Lydia V. Kibiuk, Baltimore, MD
The forebrain, midbrain, hindbrain, and spinal cord form the central nervous system (CNS), which is one of two great divisions of the nervous system as a whole. The brain is protected by the skull, while the spinal cord, which is about 17 inches (43 cm) long, is protected by the vertebral column.
The other great division of the human brain is the peripheral nervous system (PNS), which consists of nerves and small concentrations of gray matter called ganglia, a term specifically used to describe structures in the PNS. Overall the nervous system is a vast biological computing device formed by a network of gray matter regions interconnected by white matter tracts.
The brain sends messages via the spinal cord to peripheral nerves throughout the body that serve to control the muscles and internal organs. The somatic nervous system is made up of neurons connecting the CNS with the parts of the body that interact with the outside world. Somatic nerves in the cervical region are related to the neck and arms; those in the thoracic region serve the chest; and those in the lumbar and sacral regions interact with the legs.
The autonomic nervous system is made of neurons connecting the CNS with internal organs. It is divided into two parts. The sympathetic nervous system mobilizes energy and resources during times of stress and arousal, while the parasympathetic nervous system conserves energy and resources during relaxed states, including sleep.
Messages are carried throughout the nervous system by the individual units of its circuitry: neurons.