Barrier in the Basal Ganglia
Published

18 Dec 2015

Reviewed

18 Dec 2015

Author

Alexis Wnuk

Source

BrainFacts/SfN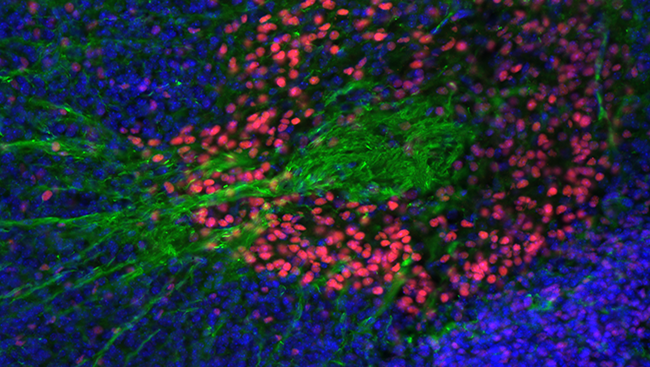 Morello, et al. The Journal of Neuroscience, 2015.
Huntington's disease is a genetic disorder characterized by jerky, uncontrollable movements and poor coordination. These symptoms result from the death of cells in the basal ganglia, a group of interconnected brain structures important for initiating and coordinating movement.
This image highlights the interaction between two structures of the developing basal ganglia in an embryonic mouse. Nerve fibers (green) from one structure called the striatum are making their way toward a structure called the globus pallidus (pink). Scientists have discovered that a protein in the brain helps to shepherd some of these nerve fibers to other parts of the basal ganglia. Without it, many of the fibers fail to make it past the globus pallidus and instead accumulate in a ball, as seen here. Studying how the basal ganglia develops could shed light on Huntington's disease and other movement disorders.